Home care can be a transformative solution for people looking for personalised support for themselves or a loved one to promote independence, increased comfort, and happiness.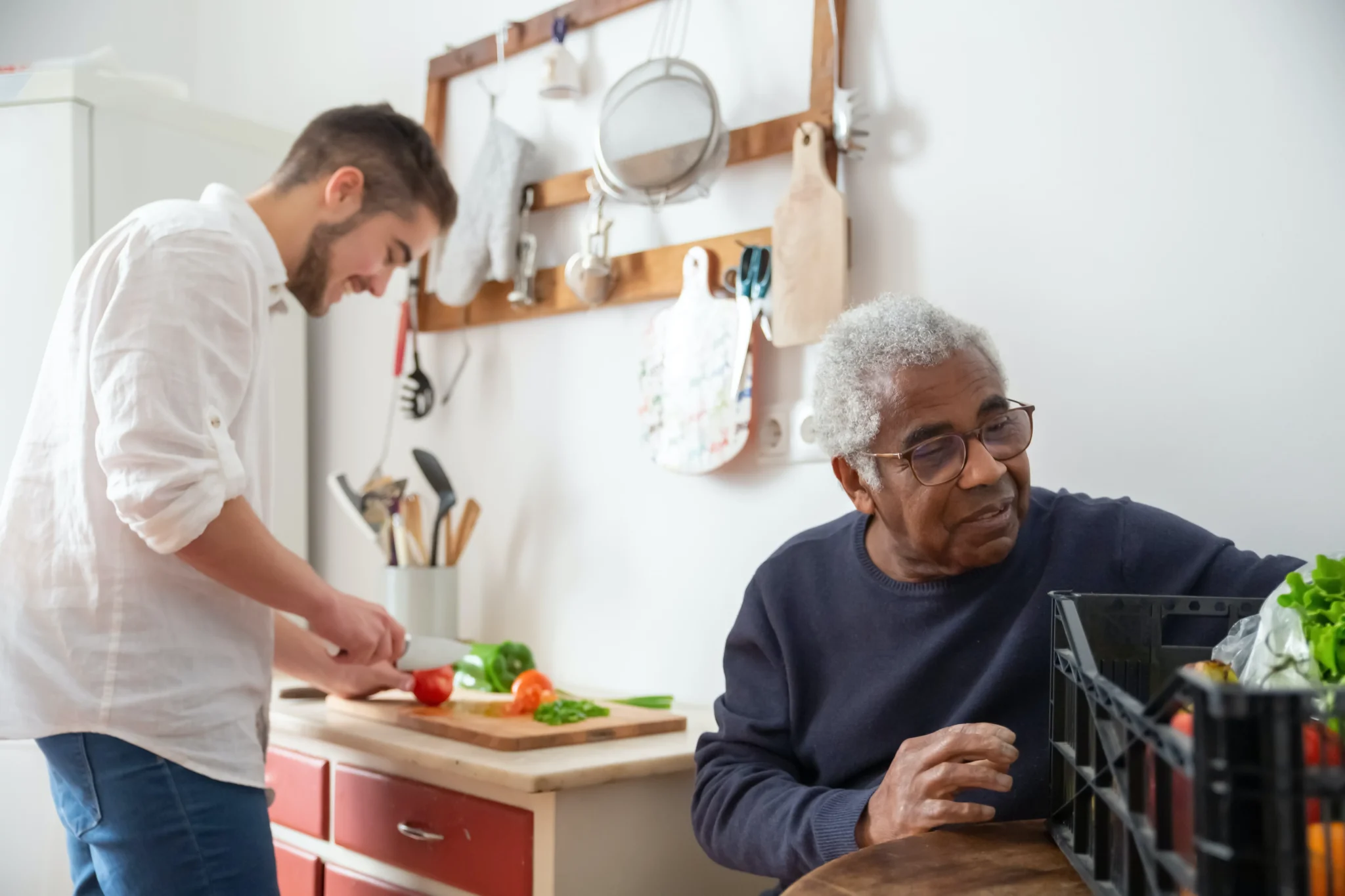 Aspire UK provide care that you can rely on, knowing you or that special someone will be well looked after while maintaining autonomy and choice.
Our team of experienced care workers provide services that cater for unique needs and preferences, meaning service users can enjoy doing what is important to them while remaining safe. From personal care to companionship, there is a range of service options available to encourage a dignified and holistic approach to illness, injury recover, and aging.
Aspire UK has become a leading home care provider in the Leicester and Leicestershire areas because we are passionate and committed to improving our service user's quality of life with reliable and thorough care. Find out how our team can help you or your loved one with our home care options.
Who Can Benefit From Home Care? 
Home care services may help many different people for an array of reasons. Examples of people who may find home care advantageous can include:
Seniors who need assistance with daily activities that have become difficult to undertake due to reduced physical or cognitive functionality.
Anyone living with chronic health conditions or recovering from illnesses or surgeries.
People with disabilities who require individualised care and support.
Service users and their families require end-of-life support.
Family members in need of respite care to support their loved ones and maintain their own well-being.
What Services Does Aspire UK Provide?
We are proud to offer a comprehensive array of services that involve trained care workers coming to your home to provide individualised support. This assistance can be tailored to suit a variety of specific needs and preferences and may cover a range of essential tasks and events.
Aspire UK provide different types of home care, dependent on what your requirements are. These include:
Regular or Temporary Home Care Visits
We can organise one of our dedicated and friendly care workers to visit you or your loved one at a frequency that suits you. This could range from a few sessions following surgery to daily visits to provide assistance with everyday tasks and needs.
Some people find it helpful to have a care worker who is available throughout the night to tend to their needs or to those of their loved ones. This can mean that family members who provide support during the day can feel comfortable resting at night, knowing the person who needs assistance is well looked after.
Our care workers can also stay in your home so that there is care available when required. This can provide peace of mind, elevate independence and overall well-being, and enable family members to feel confident they can go about their day while support is provided to their loved one.
Some services that we can offer with home care include:
Support with Daily Living such as Personal Care tailored to your needs, such as assisting with dressing or bathing and much more
Fulfilling errands, such as posting letters and collecting prescriptions.
Preparing meals and assisting with eating.
Healthcare, such as monitoring medications and continence care (not including specialised care such as medical procedures and assessment).
General housework and chores.
Companionship and friendly support from someone familiar to keep you active, engage in activities inside and outside the home and help families take a rest from caring with peace of mind.
Enabling social interactions and outings and taking part in events and groups, such as going to the cinema, attending book club meetings, or visiting friends.
Where Does Aspire UK Provide Home Care?
Aspire UK provide reliable home care to part of the LE postcode area in central England. Because we focus on this area, we are able to provide continuity of care so that our service users and families can feel happy with those who provide support and become familiar with their care worker. It also means that our care workers are familiar with the local area of Leicester, meaning that tasks such as organising events, undertaking errands, and facilitating transport are simple and efficient. 
The postcodes Aspire UK cater for include all those within LE1 to LE18. This covers areas such as Leicester, Oadby, Wigston, New Parks, Glenfield, Groby, Anstey, Syston, Queniborough Birstall, Thurmaston, Evington, Groby, Rothley, Mountsorrel, Kibworth, Hinckley, Blaby and surrounding areas.
Why Choose Aspire UK For Home Care?
Our extensive services may significantly improve your quality of life or that of your loved one, which is what we are all about. We are proud to deliver high-quality care that helps people from all walks of life with a variety of needs to live the most independent and rewarding lives possible. We not only provide our service users with comprehensive, holistic, and personalised care that may improve their safety and happiness but employ only the most dedicated and passionate care workers to promote respectful, compassionate, and reliable care.
As a trusted service provider in the UK, Aspire UK is regulated by the Care Quality Commission (CQC). Our current CQC rating demonstrates that we are performing well and adhering to the requirements expected of us as a health and social care service.
Gain Personalised Home Care For Improved Quality of Life With Aspire UK
Choosing home care that you can rely on may be crucial to overall health and well-being when you or your loved one is living with certain limitations or requirements. Aspire UK provides premium, comprehensive, and compassionate care that is tailored to specific needs so that our service users and their families feel confident in the care and support they are receiving. If you are looking for a way to preserve independence and improve overall quality of life, contact our friendly team to find out how we can help you.