Caring for Leicester and Leicestershire families since 2000
Aspire UK was founded in 2000 and has grown to become a leading provider of home care services, also known as domiciliary care. in the Leicester and Leicestershire area. Our goal is to help people maintain their independence and continue to do the things that bring joy and fulfilment to their lives.
Beyond personalised help to live at home, we offer social care and support to accomplish other outings or goals. Whether it be taking your dog for a walk, visiting your favourite museum, or staying involved with the community, if it's important to you, our team will find a way to facilitate it.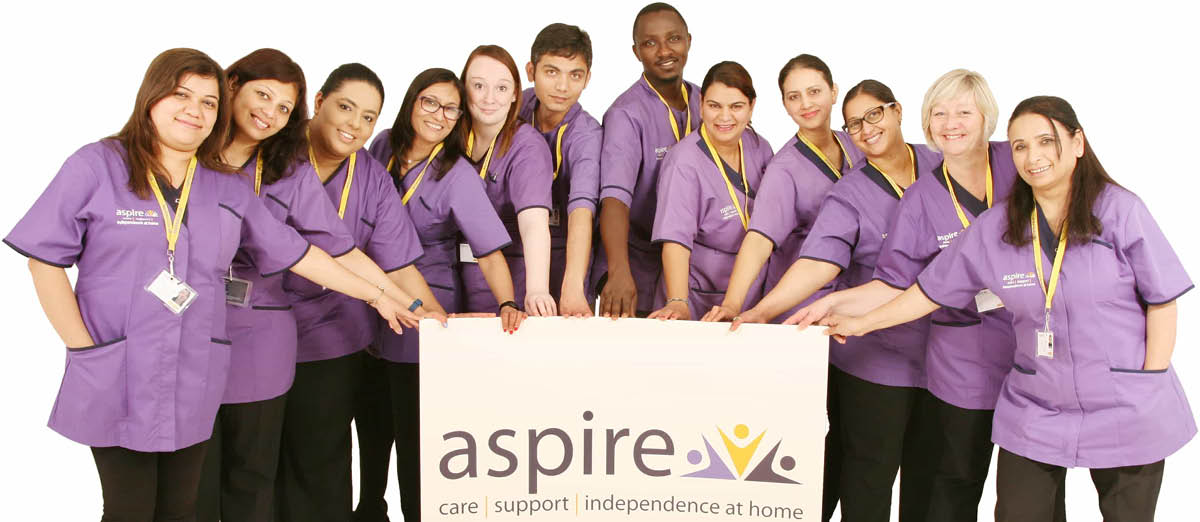 At Aspire, we recognise that everyone has unique goals and aspirations, which is why we always tailor our care to suit our client's needs. Our mission is to provide high-quality care and support services in Leicester that promote independence, dignity and choice. All services are delivered with dedication, sensitivity and compassion.
Our values guide everything we do at Aspire.
We respect, care for and will protect our Clients.
We actively listen to our Clients and will speak up for them.
We promote a culture of involvement and participation.
We strive to continuously improve and develop new service models by listening to our the people we care and support.
We actively promote a culture of learning and development, recognising and valuing our staff as our greatest asset.
In home care from an experienced and compassionate team
The Aspire UK care and support team assist hundreds of people across Leicester and Leicestershire every day. Our team is committed to improving the lives of people in their community.
Aspire UK is committed to offering recognised, ongoing training to all staff. When you choose Aspire, you are matched with a care worker who truly understands the needs of your condition or situation. With care staff trained in mental health, dementia, physical disabilities, MS, MND, palliative care and more, you can access specialised and tailored care at home.
We know the value of truly tailored home care
At Aspire UK, we are proud to make a difference in the lives of people in the local community. Our approachable and compassionate team go above and beyond to exceed your care expectations.
To learn more about Aspire UK's care services, contact us.
What our clients say about us
"We would like to thank you from the bottom of our hearts for giving so much care to dad. You have made such a difference to his life in so many ways."
J & D – Leicester
"To all my carers I would very much like to thank you for your kindness and understanding, it is very much appreciated."
MG – Glen Parva
"Please may I take this opportunity to thank your carers for the kindness, dignity and quality of care that they gave to my mum; nothing was ever too much for them."
JW – Wigston
"I am writing to thank you all for the help and care you have given to my husband Albert over the past year, your help and support has been invaluable and you have been so kind over the last few difficult weeks, thank you for your patience."
FT – Leicester
Domiciliary / Home Care for your loved ones
We want to make a difference in your loved one's life and help them stay living in their own home. Download our brochure and book a free consultation.