Care Worker Jobs in Leicester
Aspire UK provide specialist and complex care services, which are person centred and nurse led to adults who may have conditions ranging from Acquired Brain Injury, Spinal Injuries or other progressive diseases such are Alzheimer's, Dementia, Motor Neuron Disease (MND) AND Multiple Sclerosis (MS).

We are currently seeking Support / Care Workers to join our current established and expanding teams.
You will support clients with all aspects of daily living, which will include personal care, respiratory care, therapies and medication administration.
Provide support in social activities and interests.
Accompany on hospital and other therapeutic appointments.
Socialising and maintaining friendships and relationships.
Increasing independence and autonomy.
Supporting and enabling to identify and achieve goals.
Assist with domestic duties including daily food preparation.
Applicants must have clear written and verbal communication skills, be friendly and upbeat with a great sense of humour.
Excellent people skills are a must, this combined with the ability to engage and encourage clients to thrive.
So, if you are looking for a new, rewarding career or a change in direction then now is the time to apply.
WHAT YOU CAN EXPECT FROM US
Excellent training delivered by our in-house qualified specialist nurse
Guaranteed Shifts / Hrs (6 – 8 Hrs or 12 hour day Shifts and Waking Night shifts)
Excellent rates of pay (Enhanced during Bank Holidays)
Up to 5.6 Weeks Holiday Pay
Refer a Friend Bonus Scheme
Fully Funded DBS Application
Employee Benefits Scheme
Free Uniform / Full PPE
Free Company Mobile Phone
Company Pension Scheme
Free QCF Level 2 & 3 Qualification in Health & Social Care
Interested in joining the Aspire team?
We are actively recruiting dedicated team members to join the growing Aspire team. We offer training, career development, ongoing support and career benefits.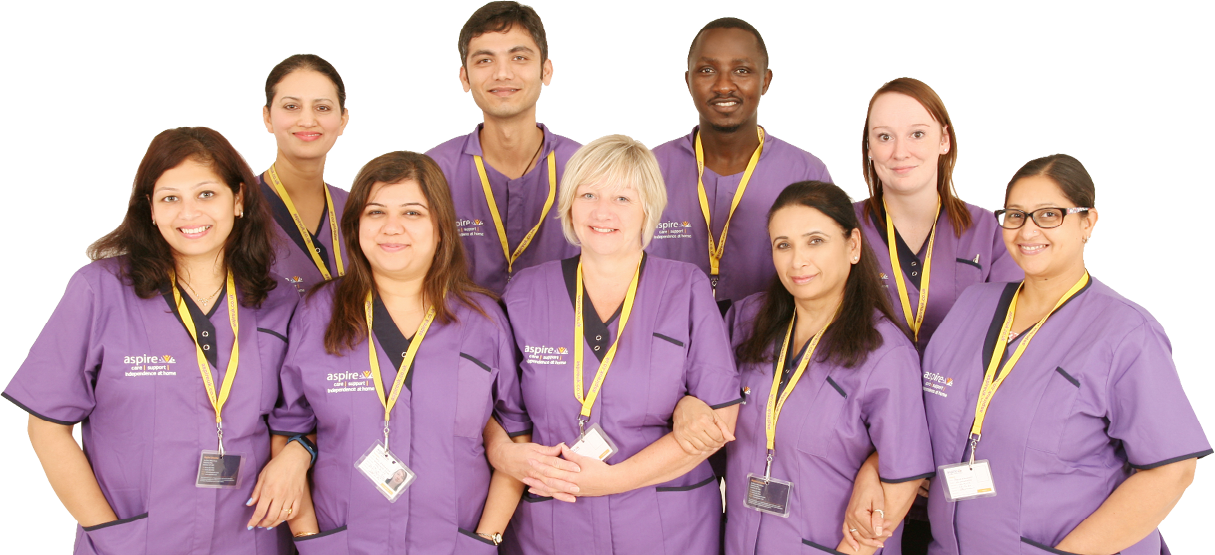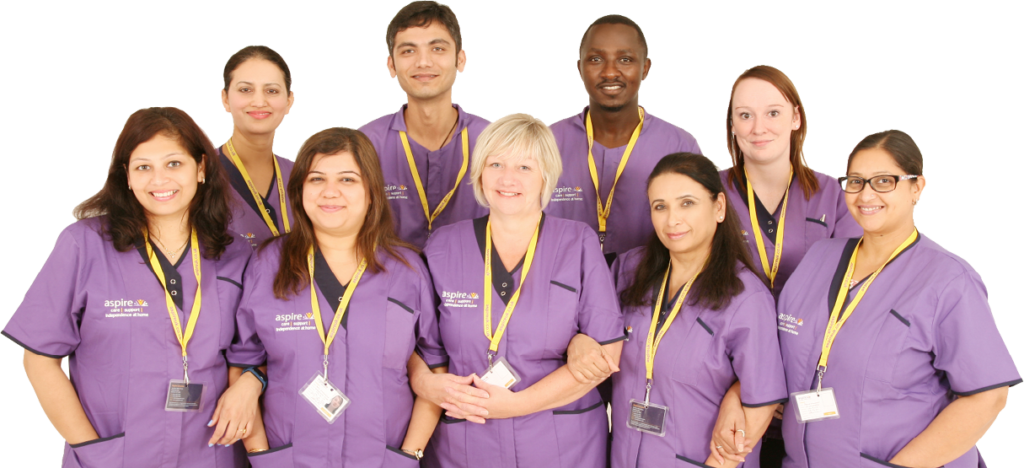 We are extremely proud of our team and care for them as much as for our clients. Download our brochure and book an appointment.