Care workers play an important role in the lives of service users. Here at Aspire UK, we are proud to have such a dedicated team of care workers who provide outstanding home care every day.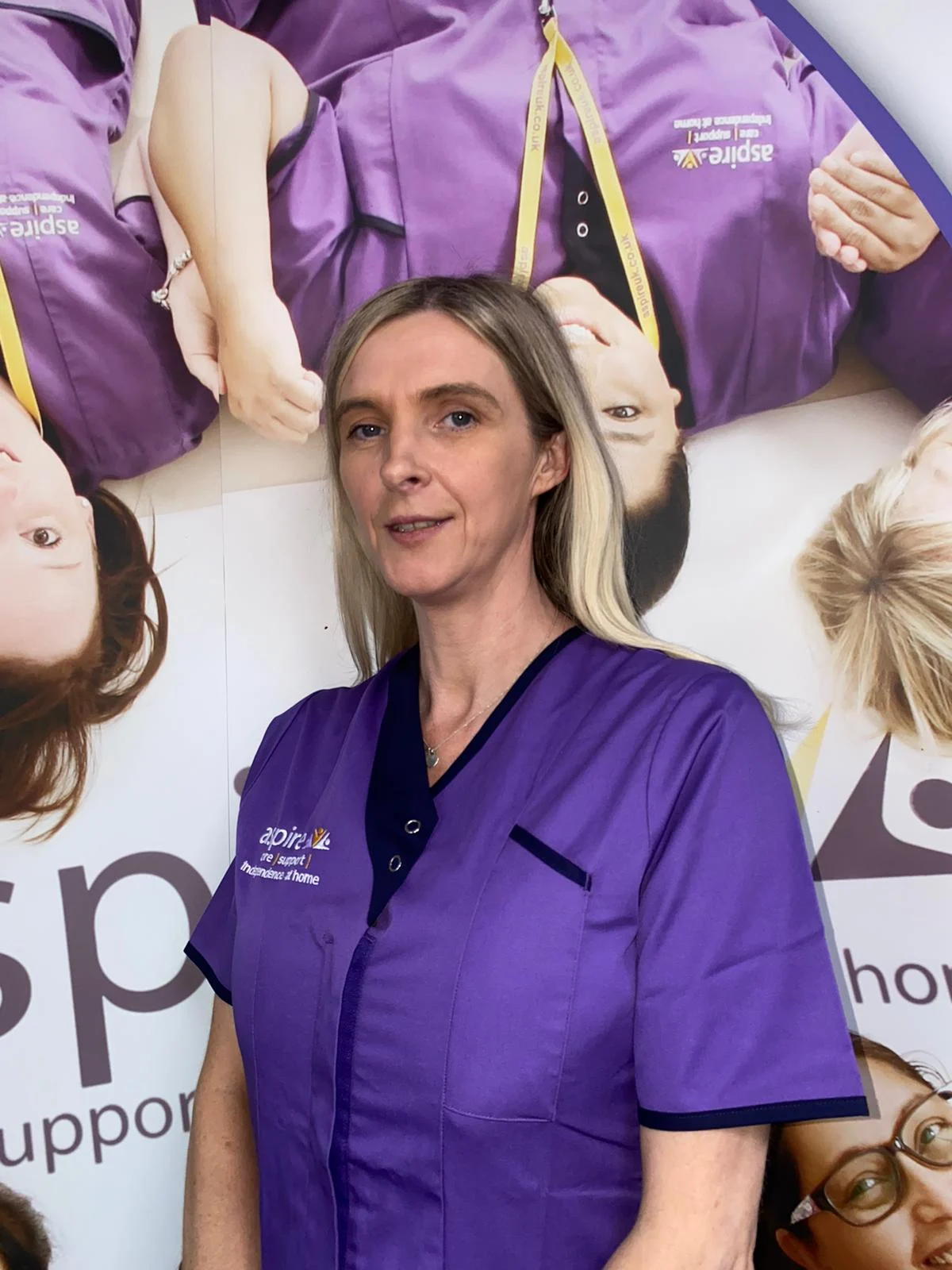 We interviewed one of our team members Kerry to offer insight into a day in the life of a care worker. Whether you're a service user, a loved one of a service user, or a future care worker, we hope this guide provides you with helpful information about the roles of a care worker.
To learn more about our care services, contact our team today. Or, if you're looking for a career in care, apply online.
Interview With a Care Worker
What does a day in your life as a care worker look like?
My day typically starts at 7 am in the morning, when arriving at my first client's home. I would go in and say hello and then review the care plans and any specific notes or updates from the previous day or night.
Each day is different, and working with numerous clients of different ages and cultures is very rewarding as you always learn new things each day.
Working as a carer requires me to have patience, compassion, and a strong sense of responsibility as I play a vital role in improving their quality of life. I absolutely love what I do; it's really rewarding, especially when they smile when I walk in and say, 'Hello, it's me again!'.
What tasks and activities does your role involve?
My role involves me helping clients with personal hygiene tasks such as bathing, dressing and grooming. I may also assist with incontinence care depending on the client's needs.
I ensure that all medications are administered correctly, following any specific instructions from healthcare professionals and helping with meal planning and preparation according to my client's dietary requirements. I ensure that my clients receive nutritious and balanced meals throughout the day. I may also perform light household duties, such as tidying up, doing dishes, doing laundry, and maintaining a clean and safe living environment for my clients.
It is also important to provide emotional support and companionship to my clients by engaging in conversations, activities, and hobbies that I know my clients enjoy. Most importantly, accurate documentation is essential as communication with the office and other healthcare professionals to detail any changes in the client's condition or responses to treatment to ensure their quality of life is maintained.
What is your favourite part about being a care worker?
I feel rewarded for having the opportunity to make a positive impact on the lives of vulnerable individuals by providing them with the essential care and support they need.
I build meaningful and trusting relationships with the people I care for, building a sense of companionship and friendship. Allowing clients to be in their own homes, maintaining independence and quality of life in a familiar environment is very satisfying. Over time, I become a part of their family.
Every day can bring different challenges and situations, making the job dynamic and engaging. Being a care worker and having empathy, patience, and problem-solving skills, providing an opportunity for personal and professional growth is very fulfilling.
Knowing that I am making a positive difference in someone's life can bring a strong sense of achievement and purpose to the job. Having the flexibility to work the hours I choose allows me to balance my personal and work life effectively.
What is something about care that people might not realise?
Being a care worker goes beyond just personal care tasks of bathing, dressing, and meal preparation; it is common for care workers to also offer companionship, emotional support, assist with transfers, and support clients with mobility challenges. Care workers often have irregular schedules, working during weekends, evenings, and holidays to meet their clients' needs.
The job can be physically and mentally demanding. You tend to build a strong emotional bond with your clients, and dealing with illness, end-of-life situations, or declining health can be emotionally challenging. Care workers also require certified training and qualifications to carry out various care tasks, ensure clients' safety, and comply with certain regulations.
In your opinion, what is the greatest benefit of accessing care at home?
The greatest benefit of accessing care at home is the enhanced comfort and convenience it offers to my clients. Being in the comfort of their own home can significantly reduce stress and anxiety associated with staying in unfamiliar settings and surroundings. The familiar surroundings can promote a sense of security and ease for clients, which can positively impact their overall well-being.
Providing Care at home can also lower the risk of exposure to contagious illnesses, which is particularly beneficial for those with compromised immune systems or vulnerable health conditions. Home-based care encourages the involvement of family members or friends, which benefits the client knowing family and friends can visit at any time they want.
Contact Aspire UK Care
Looking for care or ready to join the Aspire UK team? Contact Aspire UK Care today!